Welcome to Yasmine Phoenix's Salute to Battlestar Galactica Contest. I'm a BIG FAN and eagerly await the start of the new season on Friday, October 6th. Check your local time!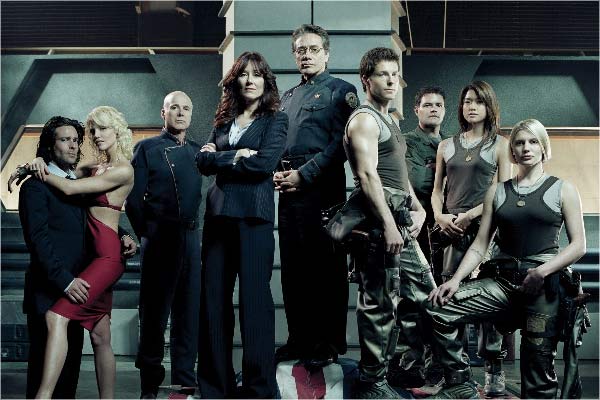 Photo from Sci Fi.com
The second season ended with the last remaining humans voting to live on a planet they named New Caprica. A planet shielded by an ion field they believed would keep the Cylons from finding them. They also elected Gaius Baltar as President; because President Roslin thought it was a very bad idea to settle on the planet. She believed they should keep looking for planet Earth. So Roslin tried to steal the election, something against her moral code, but she knew with Baltar as President, the human survival was in jeopardy. The story picks up a year later on New Caprica. Conditions are harsh, President Baltar has turned into a decadent, non-caring elected official, and the citizens are worse off than before they landed. The last of the fleet, commanded by Admiral Adama, is in orbit around New Caprica. When the Cylons find them! Well, Adama and the remaining ships flee, leaving the humans at the hands of the Cylons. President Baltar surrenders the humans to the Cylons. Resistance is NOT futile!
Congratulations to the Winner, Laurie Powers!
She won the complete DVD series of Season 2, Battlestar Galactica!
Dialogue Clips
10-10-06 – Dialogue Clip Three
9-29-06 – Dialogue Clip Two
9-22-06 – Dialogue Clip One
Contest Rules and Guidelines:
1. Starting Friday, September 22nd until October 9th, I will post dialogue from a second season episode of Battlestar.
2. To enter the contest, you must email me and tell me which character(s) said the dialogue. You may email your answer to YasminePhoenix@aol.com.
3. Your email must reach me by the Thursday before the next question is posted. Example: Dialogue Number One will be posted, September 22nd so your answer must reach me by September 28th. Midnight, CST.
4. If you are correct, your name goes into the winner's cup.
5. The final question will not be posted until Tuesday, October 10th , because it will be from the first episode of the new season. Your answer must reach me by Friday, October 13th. Midnight, CST.
6. On Saturday, October 14th, a winner will be chosen from the cup with all the correct answers.
Well, what will you win? The complete DVD series of Season 2, Battlestar Galactica!
Good Hunting!
Yasmine Phoenix